Well, we're back in Las Vegas.
"But Liz, didn't you do this just a few short months ago?!" I hear you screeching.
Yes. Yes I did. And it wasn't the best trip – mostly due to the fact that I lost a whole day to what one may describe as "a vomity migraine", though honestly, that wasn't the only thing. On that trip in particular, I only really got out of the room dressed a couple of times – once for dinner, and once for lunch. I had grander plans, but I either chickened out (just a little bit) or ended up not feeling well to the point that it didn't make sense to push myself.
This time around though, I was much more determined.
And so, I landed on the Monday and headed off to Paris, Las Vegas – right on the strip as it prepared for the inaugural F1 Grand Prix, resulting in a chaotic mess of packed streets, obstructed sights, and odd walking routes to get anywhere. Checking in was easy enough, as usual – though the check-in person was a little overly-friendly and awkwardly flirty. She made a heart at me with her hands, and joked about not wanting to deal with traffic and staying with me in my room instead. OK lady.
I unpacked a bit to prepare for the next day, headed out to find something to eat, and then made sure to drink a lot of water and take some migraine meds, just in case. I'm glad I did, because I ended up not sleeping well that night – with the Bellagio fountains booming not too far away, and excitable drivers revving their engines on the soon-to-be racetrack, I think maybe I got 4 solid hours of sleep. Not really a great recipe for having an early-start with a pain-free head.
I woke up around 6.45am and tried to get my shit together. Getting from vaguely-awake to dressed-and-ready-to-go took a solid two and a half hours, which is much longer than it should've taken. A good chunk of that time I was stuck in the smallish shower trying to shave all my various bits awkwardly. Another good chunk of it was doing my makeup and having a small panic when I realised that I had not brought the right foundation: MAC's NC42 instead of my NC40. I figured I'd just go for it and see how it looked – it was a little darker than I wanted (I bought it for when I am a little more tanned), but looked basically fine, though it set me off to a bad start. I then spent another 30 mins trying to find reasons to hang out in the hotel room more – i.e., taking pics under the guise of "well I should probably do a few test shots with the camera."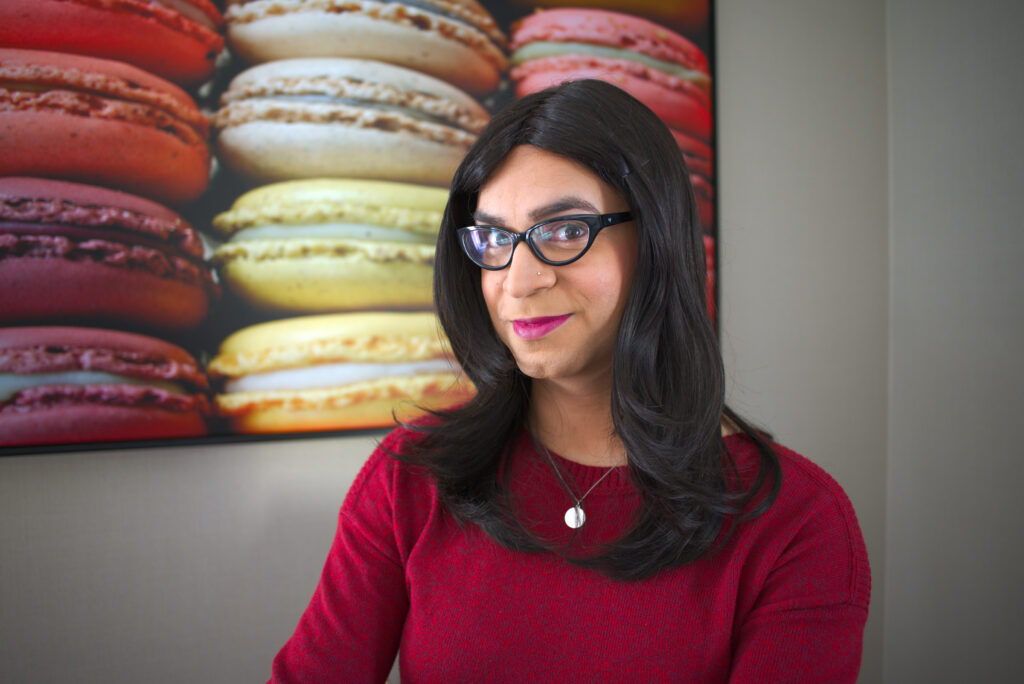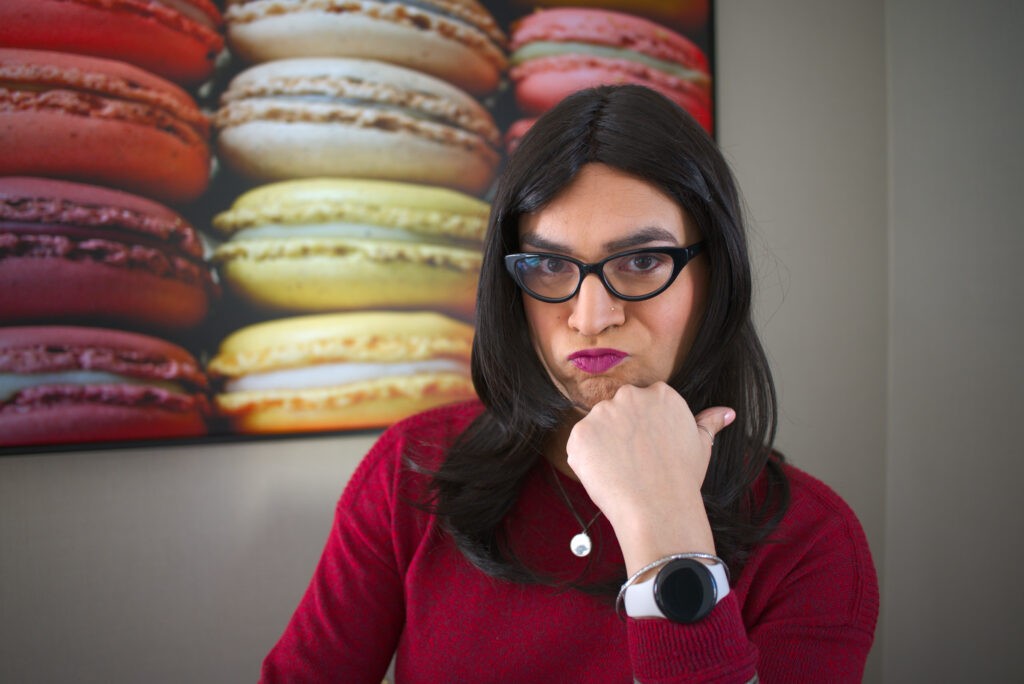 "OK, OK – Enough with the delaying tactics. You're hungry, don't over-think it, get outta here!"
I had put together a rough schedule of where I was going to eat on that first day. Breakfast was at Mon Ami Gabi, a restaurant attached to Paris, with a nice outside seating area.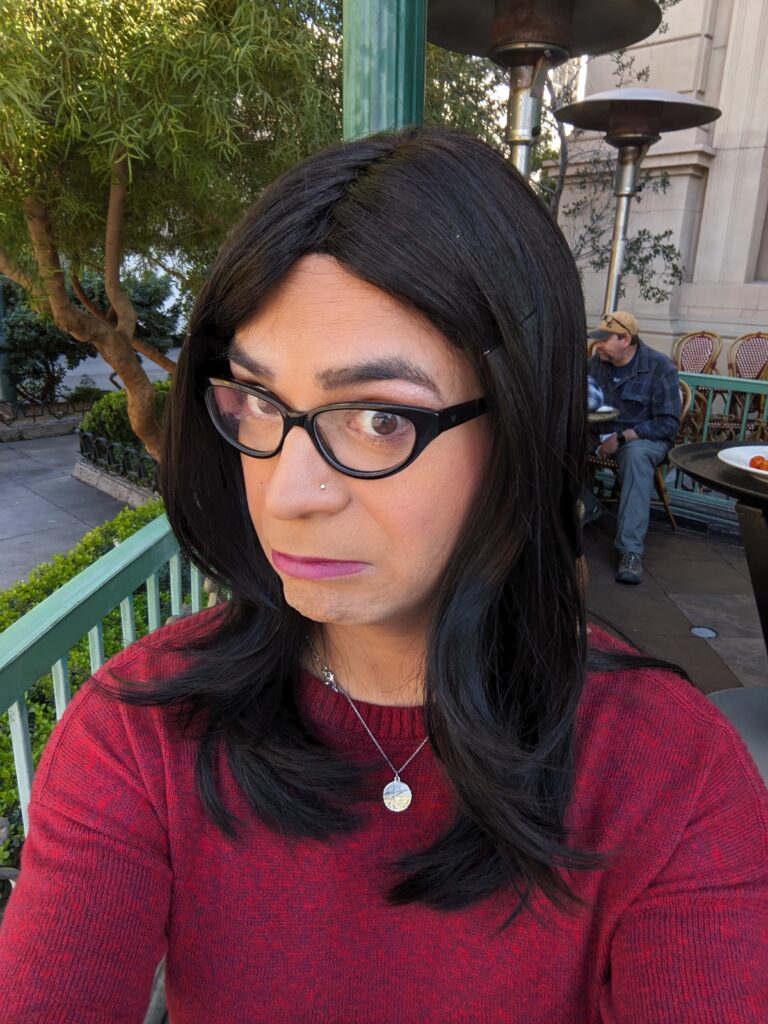 I wasn't mad at it. It was still pretty early, and having heard some good things about what was in and around the Bellagio, I wandered off in that direction to see what was what.
I'm in a constant battle of trying to not give a shit about what people think of me, which is a pretty hard task at the best of times. Dressed up, and minding your own business is one thing: You can largely walk tall and ignore the occasional look. But trying to get a bit further out of my comfort zone: selfies, and selfie-sticks in a public place? Holy sweat-your-makeup-off, Batman. This was a little trickier. It was also starting to get warm. If I'm a little bit… dewy, I'm sure you'll forgive me.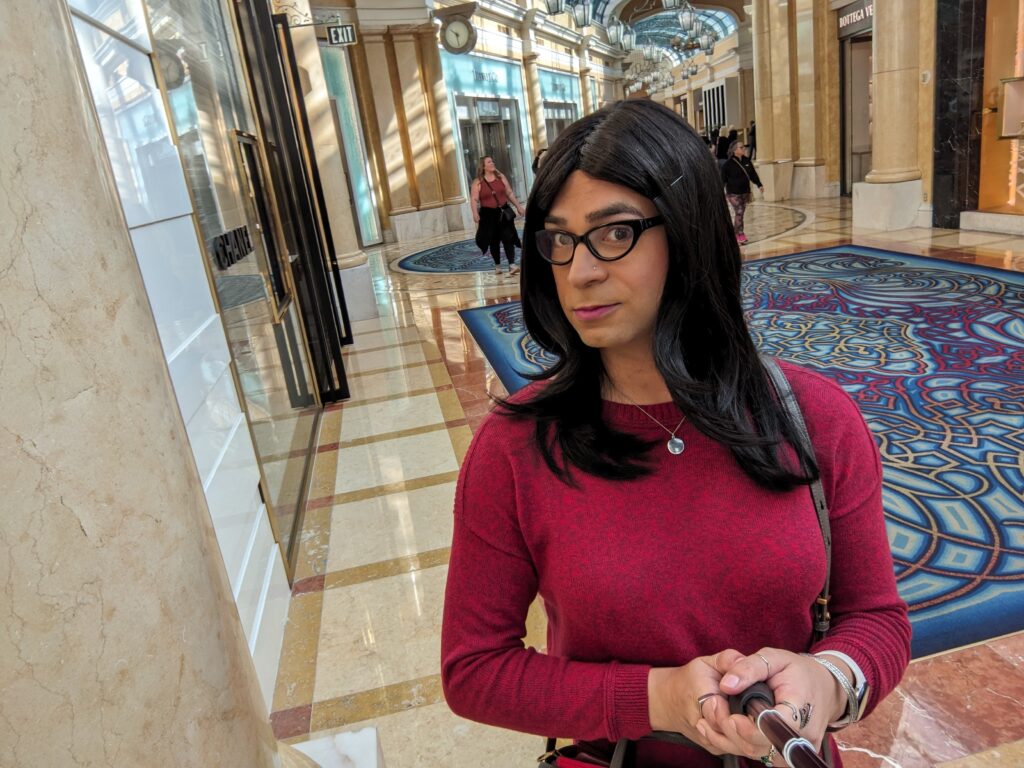 Having decided I had made my point, I walked back to Paris and figured it was time to start the photoshoot in earnest.
I have this habit where, throughout the year, I will buy pieces that I think might look really good in a photoshoot. There were some particular pieces from Thistle and Spire which I'd been eyeing for much too long, so I caved, bought them, and brought them with me. This was a bit of a departure to any of my previous shoots because breastforms couldn't really be employed here. A (shock horror) real nipple may make an appearance here, so be warned.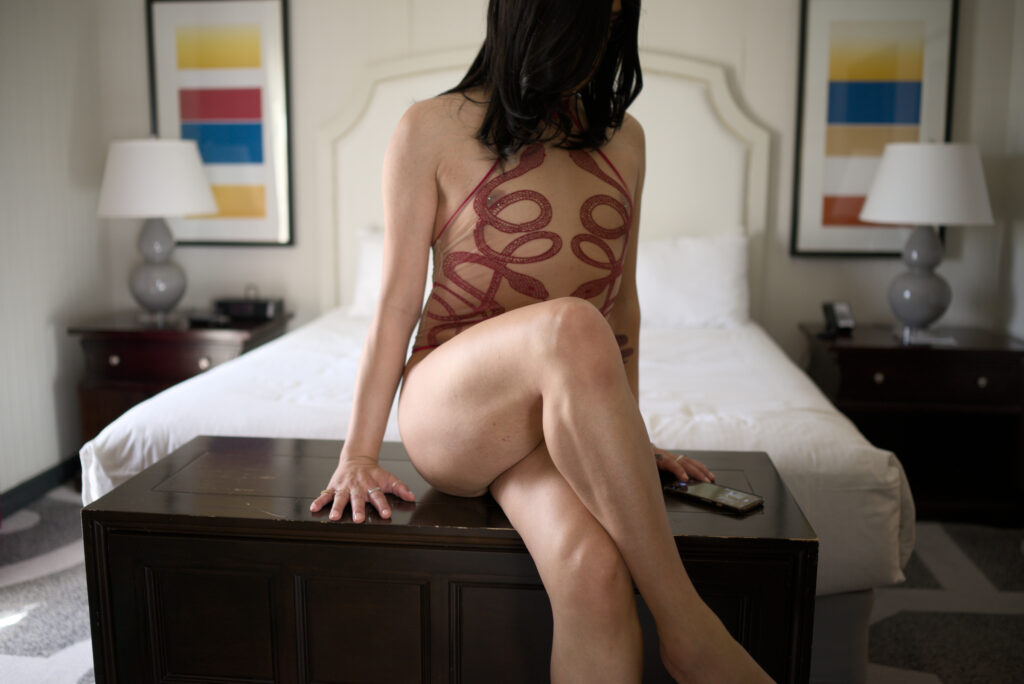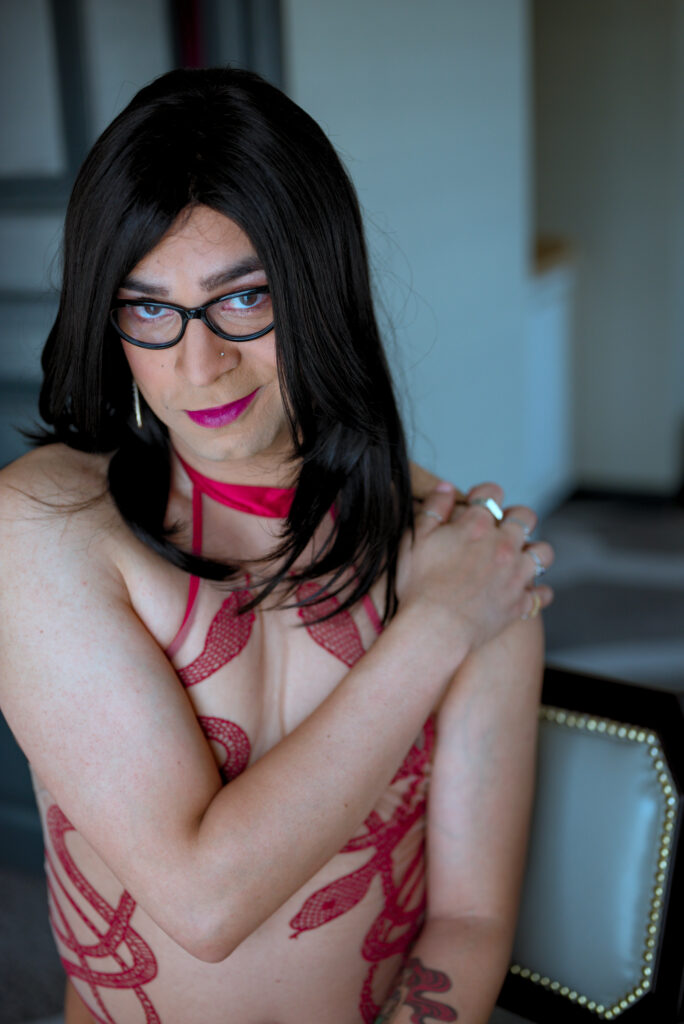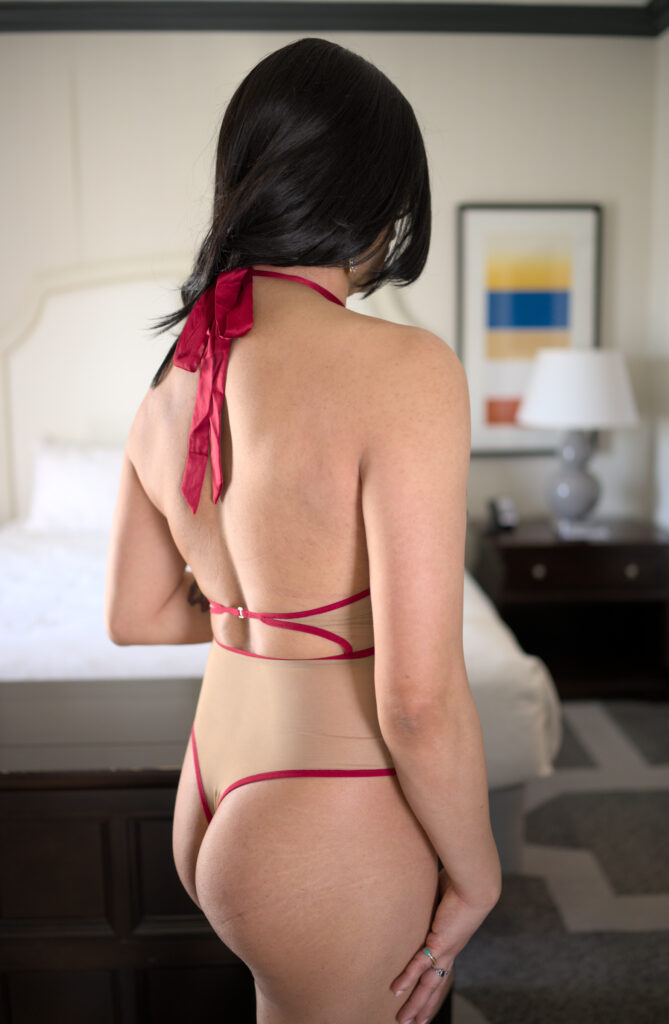 Just gratuitous, and this video's a little cheeky also. Sorry about that.
One of the things I was planning on doing with this trip was getting some sweater + skirt action in. You can see that with the first outfit (red sweater, denim miniskirt). I figured it was winter in Vegas, so probably cool enough for me to rock the sweater look. I was mostly wrong on this front, since it ended up being pretty warm. On my way to taking some photos of another sweater outfit, I ended up underwear'd in a not-terrible outfit. You can tell the breastforms aren't in here, because my bra is dented. Classic.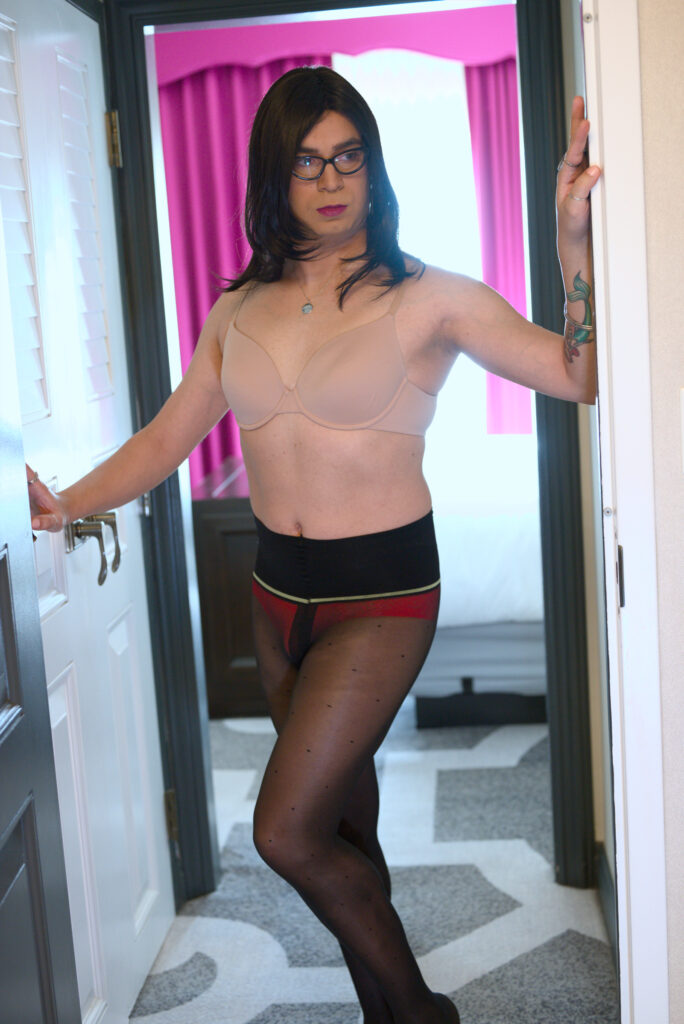 And finally sweatered. My general problem with sweaters is that I run pretty hot, so am almost immediately sweating in them. I guess that's what you'd expect, given the name. My main problem though is that I don't think they're particularly flattering on me. I find this annoying, since "flattering" is basically my whole raison d'être.
Lest we forget, here's my behind again.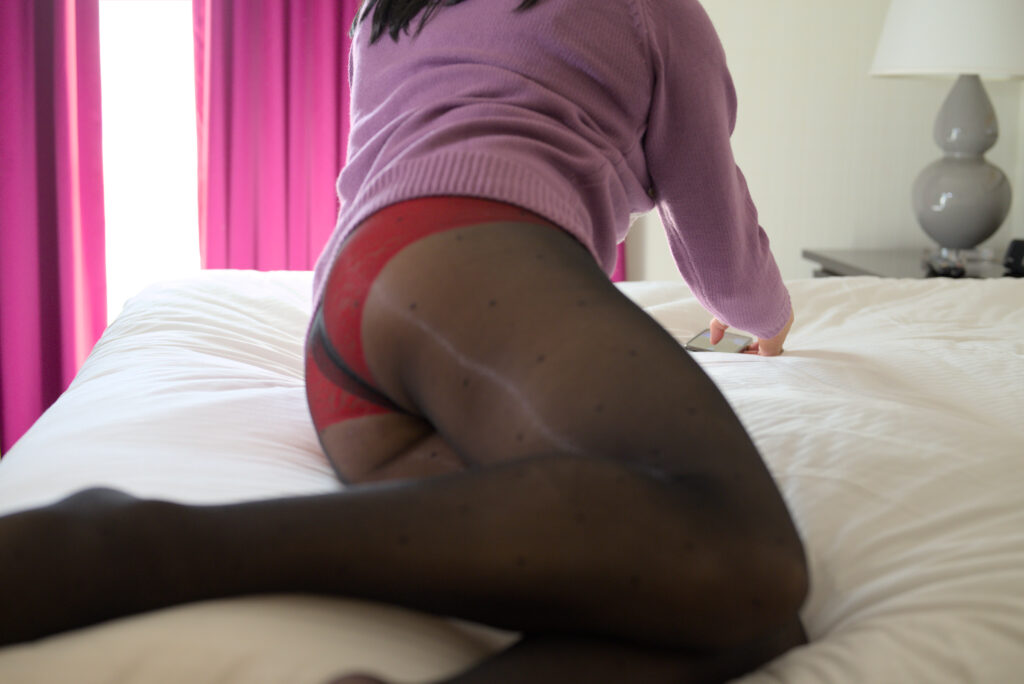 By this point, I was getting hungry once more. I threw on one of my favourite dresses (the eagle-eyed among you may remember this as the dress I was planning to wear to a friend's wedding, but ended up missing it because I caught COVID. Grr.) I also decided to give these incredibly high sandals a whirl, too. I'm glad for the blockier heel on these bad boys, because I otherwise would've frequently landed on my aforementioned ass.
My vacation plan called for food, and then a wander, before heading back for more photos, so away we (my heels and I) went.
At the creperie downstairs, I ate what I would consider an expensive-yet-unremarkable crepe. The unremarkability of the crepe is more annoying, given that crepes are the only thing this place makes. If you're gonna do one thing, do it well, you know? After that disappointing experience, I wandered off halfway down a french hallway. I can only apologise for the poor image quality, but I guess my phone doesn't do so well in the not-very-dark.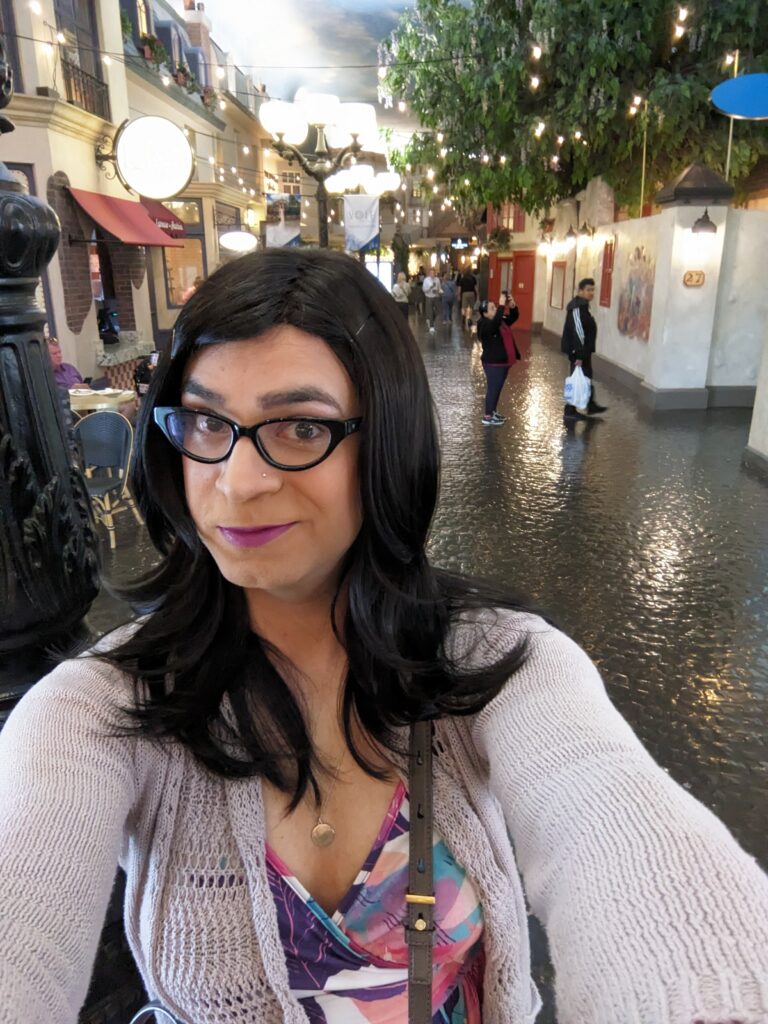 Enough of that. On my way back to the room, I figured I'd try taking some photos in the well-lit, largely unpopulated elevator lobby down the corridor from my room.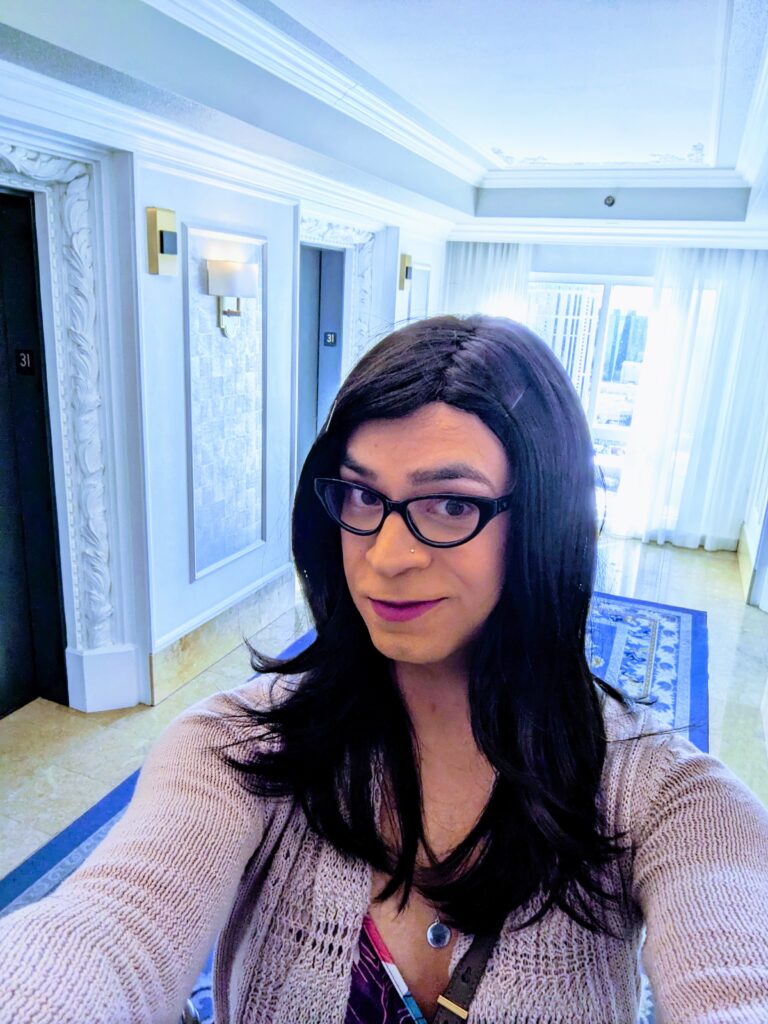 If you want to see me walk awkwardly down that hallway, badly lit, from an unflattering angle, check out this instagram post. People seemed to like it. But enough photos with potatophone, I have a much better potato back in the room.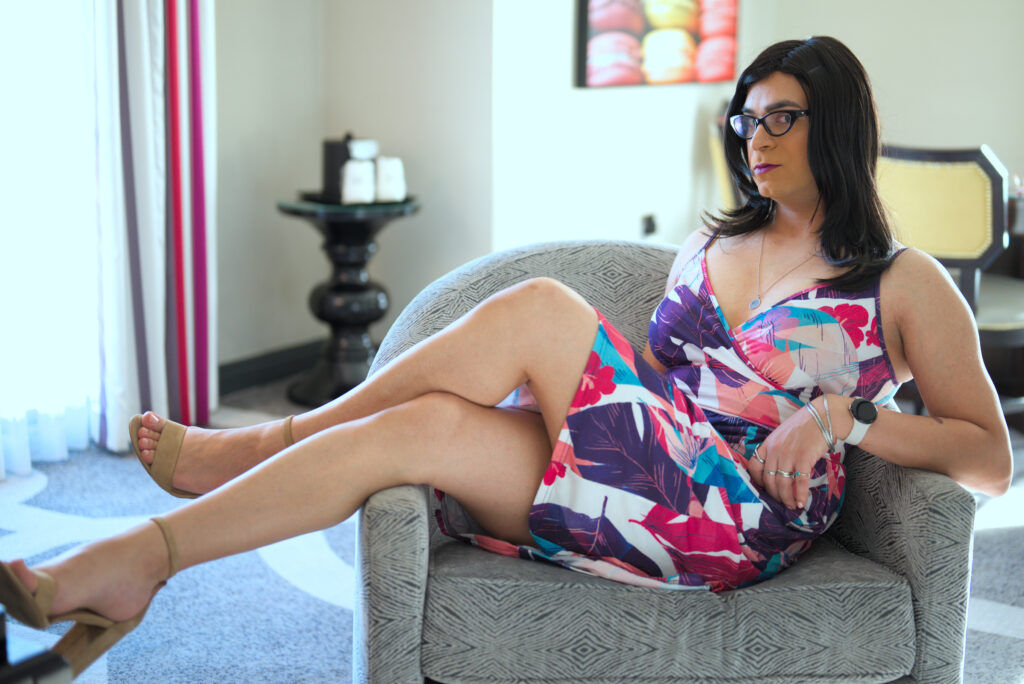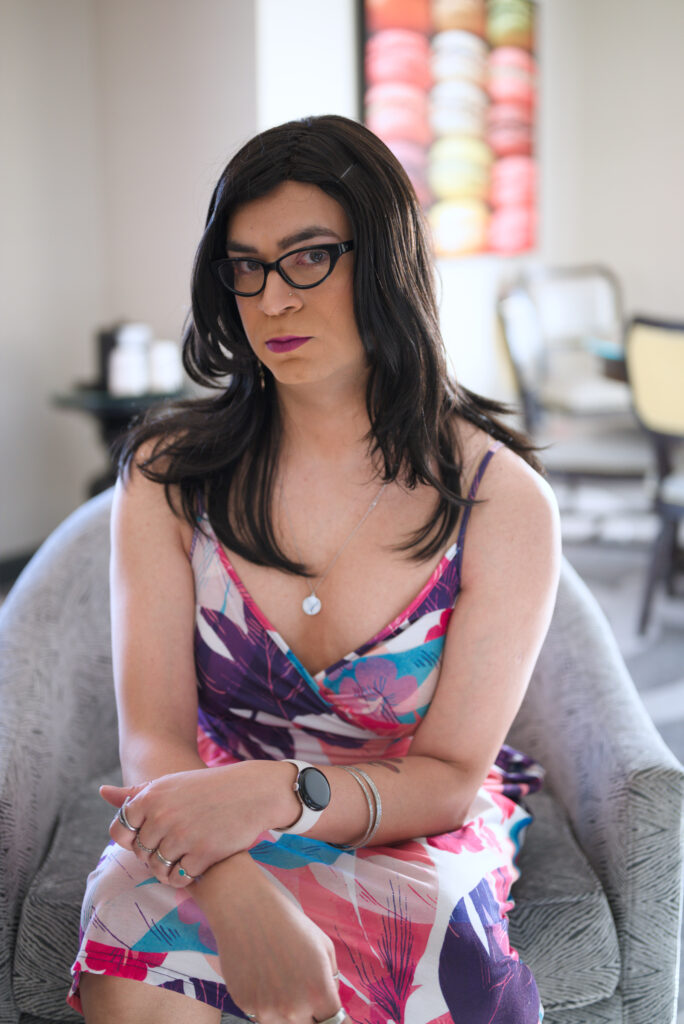 I love this dress. A lot.