Last time (my god, that was a long time ago) I talked a bit about how to crossdress sneakily… This time… maybe it's worth talking about how to actually do it, or at least, how to avoid the mistakes I made, and those that I see others make as well. See this guy? The one on the left? That's me. Clearly I had no idea what I was doing back then.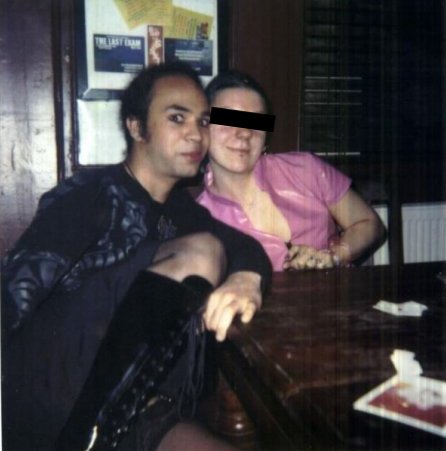 Fetish boots? Crazy hair? Apparently I didn't shave, terrible makeup. That's probably the only pic I have of me even approaching dressed up. I don't really know why I still have it – like the rest of the awful, awful pics that existed through the years, they've mostly been, by and large, carefully destroyed to maintain some semblance of my own sanity. Some asked me recently if I had any tips for beginners. My answer, basically, was "OMG LET ME TELL YOU ALL OF THE THINGS" So… here goes, I guess
How to crossdress:
Pay attention to what women wear
I know when I started, my first thought was "HIGH HEELS! BIG BOOBS! RED LIPSTICK! SHORT SKIRTS! BLUE EYESHADOW FOR SOME REASON" – and while those are true in bits and pieces, throwing it all together at the same time is kind of a nightmare. I think to be good, you have to cultivate a level of attention to detail, to see what looks good. It's an oddly analytical approach, but it pays off. If your goal is to pass, then dressing up like your own ultimate fantasy isn't really going to help. When you're out and about, look at what women are *actually* wearing, and don't trust your own mental image.
Makeup is hard, and it takes practice…
…and a good foundation goes a LONG way. Mostly it's about subtlety and not being heavy-handed (or at least, trying to make it look like it's not heavy handed) – /r/MakeupAddiction is a really good resource for that kind of stuff :D I put together my makeup routine which took a while to cultivate and master, and hopefully that'll help someone else out there! Don't just go straight for bright-red lipstick and dark eyes – makeup is a lot about light and shadow, defining good features, hiding blemishes and bad ones. You have to really understand your face, and what you're going for. OH – and before I forget, for the love of god, clean up your eyebrows – be brave, go get them waxed or shaped or something – they're not going to care, and you'll look a LOT better when dressed as a male as well as a female.
Dress for your body
I see so many people wearing these tiny tiny dresses, but underneath they're big fat guys – NOOOOOO – it looks awful :( If you're a bigger guy, maybe look at clothes bigger girls wear – taking a look at the kind of stuff Torrid.com sells is a good starting point. It's kind of crucial to understand your body shape too, and what kinds of things look good. If you're skinny with a waist, it's definitely worthwhile exploiting that! If you don't have much of a waist, aim for more A-line cuts of skirts/dresses that make it look like you have hips. If you have good legs, you can exploit them with heels/tights/skinny jeans. I think it's also important to not show too much flesh – a short skirt is fine while being fully covered on top looks really good.
High heels are great, but just how high?
Heels are AMAZING, but they don't all have to be 6 inches (and if you can actually walk in 6-inch heels, good on you!). Flats are really good accompaniments to lots of outfits, and look really cute (and are a LOT more comfortable). Look around you and see how many women just out in the world are wearing stupidly high heels at 3pm on a Monday… not that many!
Accessories can really help distract from masculine features
Rings, necklaces, earrings, bracelets, hair pins, etc, can all help draw the eyes away from your least-favourite-features, though it's important to not go overboard and look like Mr. T! Try to find a good balance! Necklaces draw the eyes down and can accentuate your chest a bit. Dangly earrings can elongate the face.
Be yourself!
Don't try to be someone you're not. It takes a while at first, because you're still trying to figure out wtf is going on, and learn all this stuff a lot later than most girls learn it. But take it slow, and spend a lot of time observing – if you have female friends, and you're not too uncomfortable talking to them about this, they would be more than happy (in my experience, at least) to help you out! Ask them about their clothes, where they get them, advice, what looks good with what – they're an invaluable resource, and can help you find your personality a bit :) hope that helps!
HEY
Why not take a look at my journey so far, or maybe even how I go about doing my makeup – or even just some of my pics!
xx