After wrangling with updating WordPress a little bit, and then dealing with the fallout of "Holy shit, everything's broken!!1one" I figure I should probably talk a little bit more about some of the stuff I've been up to this year.
Looks like the last thing I wrote was about a friend's birthday party I went to where I was dressed up around a few coworkers. Kind of scary, but for the most part, it turned out pretty well!
progress++
Well, more in the theme of this being the year of doing alllll the scary things… At work, we had an office party coming up – a 1920's themed costume party. Seemed like a pretty good opportunity to dress up around people – if anything, just to get people used to the idea of "Oh hey, Duncan's dressing up as a girl. Again."
Last year, we had a circus-themed office party… I went as a bearded lady – Not sure why I didn't post about it before – maybe back then I still wasn't brave enough to show face pics. In any case, here's what I wore last year…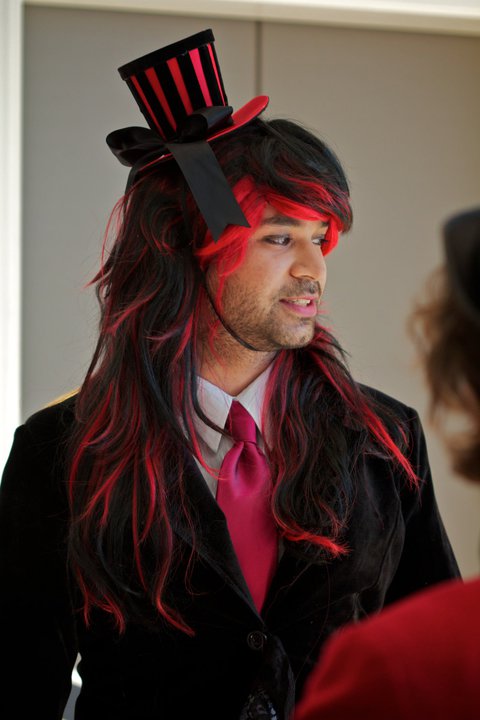 It was pretty well received – I got a lot of comments like "Dude… you won." – even though there wasn't a contest… made me feel pretty good :D if a little bit exposed. Then again, back then I was also much less forthright about the whole thing – people asked some questions, and I was generally *didn't* answer them honestly, and was a bit hand-wavy.
This time round, I was determined to be honest. If someone asked me a direct question, I would give them an honest, direct answer. Although I probably wasn't going to put together a better outfit than that one (cuz, really – that was a pretty spectacular outfit!), might as well go all out. It seemed a bit more dangerous this time – dressing up like a girl once…
Oh sure, that was pretty funny!
A second time…?
There might be something here…
Whether or not people were actually saying or thinking these things, I don't know. But I know what was going on in my head – mostly a lot of this
Holy shit holy shit are you sure you want to do this? I don't know if this is such a good idea
Etc. Putting yourself just OUT THERE like that is pretty scary, and I still don't know how people have done it – I'm lucky enough to be in a pretty safe environment for that sort of thing, but it's still terrifying every time.
So. 1920s? Clearly, I have to go as a flapper.
So, the outfit?
T-bar black heels
Black tights
Sequin flapper dress
Opera gloves
Pearl necklace
Bob wig (which reeeally didn't suit my face, but was at least in character)
Art-deco earrings
Flapper headpiece type-thing
black handbag
Most of this was bought on amazon, shoes from Zappos, earrings and headpiece from Etsy.
And the result?
And a better shot of the shoes, too. Check out my legs – rawr!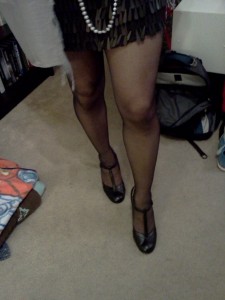 Ok, enough perving.
I'll be the first one to say it – that wig is not doing me any favours. Rookie mistake of the night: didn't take my lipstick along with me, so towards the end of the night, my lipstick had probably been consumed or deposited on various glasses and cups, on top of my foundation sweating off at some point (it was freakin' hot in there!)
Not to mention that for whatever reason, I couldn't get a particularly close shave that day, and so I'm a stubbly beast. Sad. But whatever, I think for the most part, it went pretty well!
And people's reactions? For the most part, a bit of a shock – but that's probably mostly down to me making a bit of a late entrance, and then slinking up behind people I knew and putting my arm around them. I mean. If you can't freak out the people you like just a *little* bit, then who can you freak out?! Realistically, everyone was cool – there were some questions about the boobs (I mentioned I'd had them for a while, how much they cost), someone asked how often I did this, and I think I responded with something along the lines of "If I had a dollar for every time I dressed up like a girl… I'd probably have about a thousand dollars, more than likely." (may or may not be an overestimate – I'm hardly keeping track of EVERY TIME). A lot of photos were taken – all of which are up on my facebook, because there's no point trying to hide something you did around pretty much everyone you work with – that would be stupid.
A pretty big step. Not the biggest I've taken, but definitely one of the most public. So where are we at now? I've dressed multiple times at work events, and around people I know. On the Crossdresser Scorecard, that's not bad going! Still a few more achievements to get though.
I think the biggest lesson that I keep learning, over and over again, is that people apparently don't care anywhere near as much as you think they do.
But we can only learn that for ourselves, and the only way to do that is to keep on venturing out into the world :)
(Another post from the series Being Out.)